Employee welcome packages might take a bit of time to put together, but they save loads of time during employee onboarding. They provide clear expectations and ideas about a company's culture while also outlining company policies and administrative information.
In this article we'll look at why team member welcome kits are important before delving into what to consider when creating your own. We'll show some of our favorite welcome kit examples and discuss how you can create your very own.
An employee welcome package primer
Numerous industry-leading companies welcome new employees in fun and creative ways. Note that there's no "right way" to create an effective welcome package, so don't be afraid to take small risks and experiment. Introduce your culture in your own unique way. Even the small gestures can drastically increase a new team member's comfort level.
Overall, a welcome package can be an important tool for developing your company's culture. First impressions count, as they say, and every new team member deserves a stellar first day.
First, what are some things an employee welcome package should do?
Help them be productive right away
We've all been there. It's your first day at a new job, and after being introduced to everyone and handed a key to the office, you sit at your desk, twiddling your thumbs, unsure of what to do next. No one has come by to begin the training and you've managed to finish reading the employee handbook in your first 15 minutes. So you sit there and wait.
Not being given directions or guidance on your first day is incredibly frustrating. And as an employer, why would you hire someone and not have them be productive as fast as possible. Help a new employee be as productive as possible on their first day.
Lay out expectations
Somewhere in the welcome package (i.e., the employee handbook) it should lay out the rules of the office. Everything from the rules of their specific department to team member performance to the shared rules amongst everyone.
This includes scheduling out their first day on the job. The last thing you want is your new team member sitting around waiting for the next steps. E-commerce giant, Fab, welcomes new employees with colorful gifts and a detailed first day schedule so new teammates know what to expect.
Communicate clearly and simply
Using clear and simple language free of any company jargon will make the onboarding process easier. Be sure to detail how communication is handled in the office as well. Speaking over the phone, through email, Slack, or in person are great ways to get in touch. But it's difficult to know which medium is suitable for a given situation. For example, suggestions on snacks for the kitchen may be organized in a dedicated Slack channel. Outline all communication for a new employee so they are informed.
Answer frequently asked questions
The best welcome packages are created over long periods of time and with heaps of feedback. If you're creating your first employee welcome package it will be hard to know what works and what doesn't. That's why collecting feedback is crucial. Feedback will allow you to preempt frequently asked questions and concerns new employees have. The benefit being more efficiency. The quicker you can address questions and concerns the faster a new employee will be up and running.
Employee welcome package examples
Boxed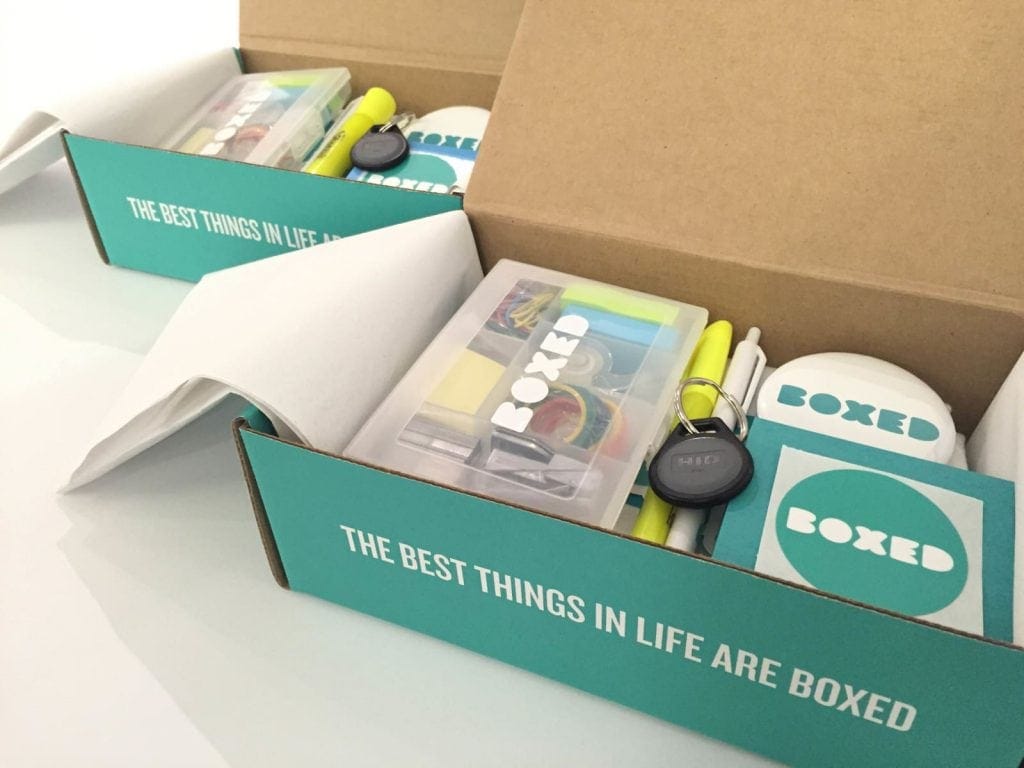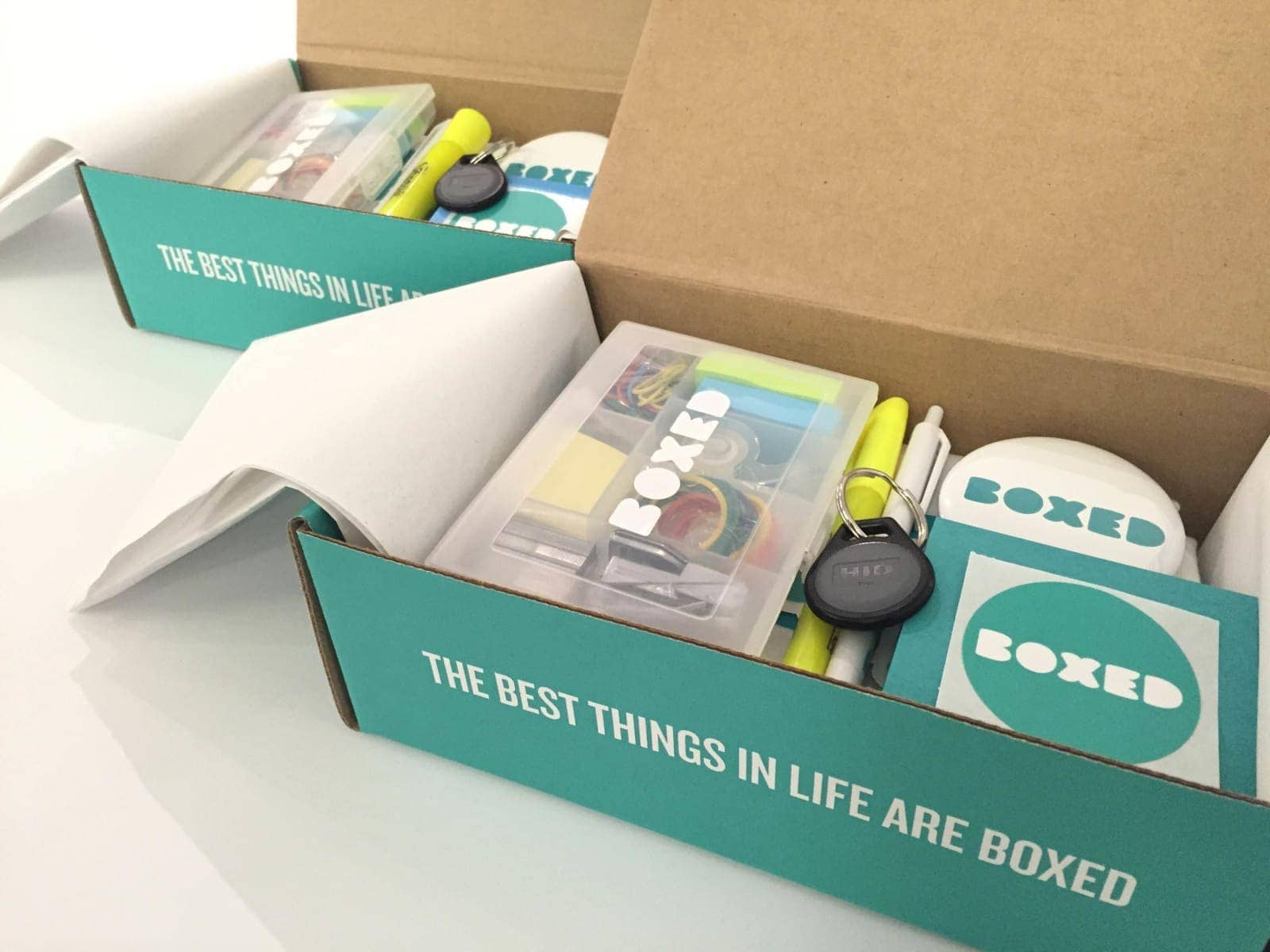 Online wholesale shop Boxed built this branded welcome kit for their new hires. In it you'll see they have the typical welcome package suspects — office supplies, welcome card, notebook, tshirt, water bottle, stickers, and more.
We love the branded items and the playful presentation. Making that extra effort to brand everything in the welcome kit adds a little flair and gives new hires a taste of your brand of culture.
Salesforce UX team
The user experience team at Salesforce has this gorgeous welcome package waiting on the desks of new hires on day one. As a UX designer, one who appreciates great design, this would be an epic start to your first day.
Salesforce doesn't slouch when it comes to employee welcome packages, clearly. New UX designers get handy reading materials, pens and pins, tshirts, a credit for new headphones, and much more. The entire package shows how much Salesforce values their design team. The contents mix of personal development materials and fun items like the Nerf gun as a show of culture. Salesforce is about being your best self but also about having fun.
Uber
Uber keeps things simple with their employee welcome kit. New hires get the full gamut of Uber swag on their first day, a jacket, mig, notebook, hat, and more. Uber also adds in a touch of personality with the furry dice. We love when companies include a small item to show off the culture and personality of the team.
Square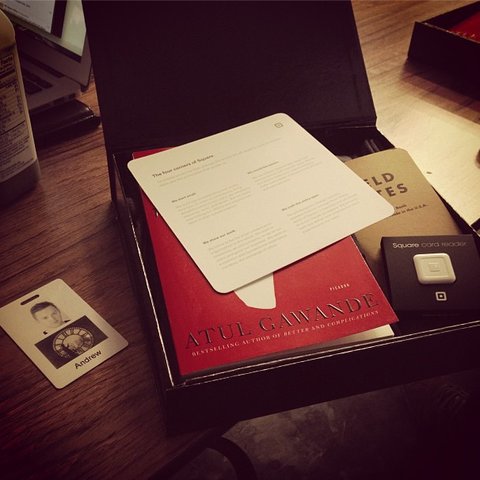 New Square employees are given the full Square experience on their first day. With a welcome kit that includes all of the Square goodies plus some extras (Starbucks coffee cards), employees are instantly ready to get started.
BusinessInsider gave readers an inside look at Square's employee welcome kit. When new hires start they're given a "welcome kit comes in the form of a sleek black box. In it, there's a square-shaped pamphlet that explains 'The Four Corners Of Square'." The four corners of a square are meant to signify the four company values:
We start small
We collaborate in commons
We round the square
We craft the entire span in a breathtaking way
There's also a Square card reader and a book that Jack Dorsey gives to all his new Hires. It's called The Checklist Manifesto: How To Get Things Right by Atul Gawande. Dorsey says he gives it to everyone as a guide to help make better decisions.
Wrapping up
A new hire's first day is important, you only get one chance to make a great first impression. If the only item a new employees get on their first day is an employee handbook you're missing out on a great onboarding opportunity.
A well put together employee welcome kit has many benefits and takes a bit of the load off of the HR department. A good welcome package is meant to get your new team members started on their first day as efficiently as possible. It can also double as a primer for your company's culture.
Original article can be found here.